Elio De Pisa 1934-2002
Elio De Pisa , a native of Rome, immigrated in 1960 to Berkeley and managed Caffe` Mediterraneum 1960-1972 and 1978-1990. Although never involved professionally with photography, he was seldom without a camera in hand and was devoted to the craft.
Recognition was given to De Pisa's work in several San Francisco Examiner and Chronicle competitions during the 1980s, and also in an Agfa products and a Sierra Club contest during the same period.
Subject matter included portraits, California and Hawaii scenes, icescapes of Chicago, botanical close-ups, and travel records from Italy, Spain, France and Mexico.
Berkeley in the Sixties is the subject of a book now in print. Please contact ddepisa@att.net for more info.
Elio De Pisa
continued to take photos, mainly color shots of nature, until his death in 2002.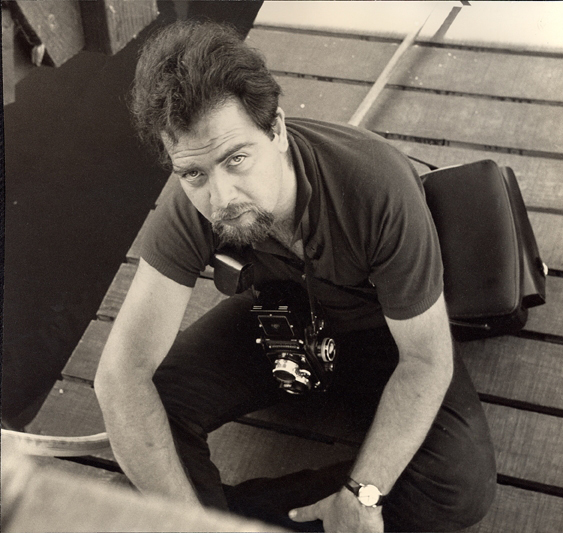 Photography Notes: by Nick Cedar
Cameras-Elio DePisa was a devoted user of the Rolleiflex TLR (twin lens reflex) camera. He would ultimately own several versions of the camera. The Rollei answered many of his requirements including: light weight, high quality lenses, silent & stealthy operation, and excellent build quality. In its day, no camera could outperform the Rollei. Elio shot many versions of Agfa and Kodak emulsions, in color (transparency) and black and white. In later years, Elio was also fond of using his Canon A1 to shoot Kodachrome film, mostly of botanicals and landscapes.
In the darkroom- Coached by Ansel Adams' manuals, Elio created his black and white gelatin silver prints on a Durst enlarger. He was mainly devoted to the lauded Agfa Portriga paper, although he experimented with others as well. His printmaking skills were superb, and only his original prints convey the true genius and beauty of his work. As a self taught photographer, Elio posessed talent beyond the dreams of most amateurs. His vision and skills were truly inspirational.